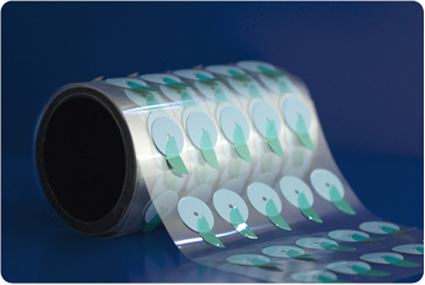 MICRO-FAZE is a new, revolutionary thermal interface film formulated with non-silicone, dry to the touch, thermal grease. It was developed by AOS to offer the lowest thermal resistance in a thermal interface without the mess of grease. MICRO-FAZE does not require burn-in to form into place.

---
Technical Advantages
Low thermal resistance with minimum force
Naturally tacky, non-silicone
Conforms with a coefficient of thermal expansion (CTE) deficiencies
Uniform film and exact thickness of thermal grease with each application
No phase change required for heat transfer to take place—Good Low Temp Performance
Durable resistance over usable lifetime
Easily stored at a wide range of temperatures
No degradation or pump out over the lifetime of the equipment
Features and Benefits
Retains all the performance advantages of thermal grease but in the form of a thermal pad
Requires minimum force to achieve total interface contact
Allows for total "wetting action" to fill all microscopic surface voids without changing phase
A positive coefficient of thermal expansion (CTE) deficiencies the wetting action for total interface contact
Heat transfer takes place at any temperature (unlike phase change materials), making MICRO-FAZE an excellent choice for cold plate applications
Offers maximum heat transfer capability for power component
Excellent replacement for phase change materials and silicone pads
Is a "drop-in-place" product that is easy to use and handles well in a manufacturing environment
Naturally tacky—no adhesive, fiberglass or other non-conductive material is used that may penalize thermal resistance
Microscopically changes to fill all microscopic voids on part surfaces
DOES NOT PUMP OUT!